How to efficiently remove soil from complex construction sites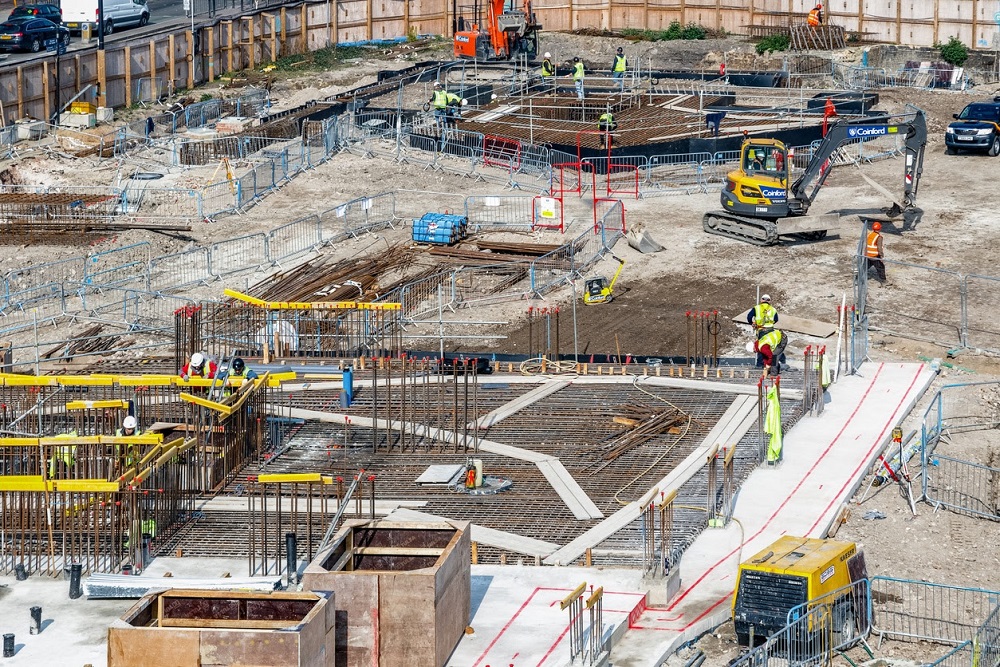 As you stand there in your helmet and high-vis jacket staring into the abyss of your construction site, you put your hands on your hips, let out a sigh and think to yourself; "How on earth do we shift all this soil?!".
For Project Managers, organising the removal of large quantities of soil, aggregates and rubble from any construction site can seem like an uphill struggle. However, when operating in confined spaces, organising the removal of waste materials while battling to meet the demands of a fluid construction site can be a logistical nightmare!
The horror of this reality is exacerbated for construction sites that share an uncanny resemblance with a spaghetti junction interchange. Complex site setups such as these restrict vehicles used to transport waste materials from accessing the targeted area of excavation. As a result, contractors are left scratching their heads, longing for a solution asides from endless wheelbarrow trips.
Luckily, you can put away the wheelbarrow for now. Those geniuses at Shifta have nailed it. Introducing, The Shifta Conveyor Belt!
Reach every nook and cranny!
Image source: iStock
Part of the challenge in efficiently removing soil from complex site setups is the ability to reach restricted areas while avoiding structural foundations and any underpinning work that is being carried out. If you're familiar with ducking, diving and delicately stepping throughout your 9-5, then you'll appreciate the challenges of operating in such conditions.
The Shifta conveyor belt overcomes these obstacles. Its compact size ensures ultimate flexibility and versatility, allowing access to areas where larger machinery would be spatially restricted. Should you need to work around corners, the conveyor belts can be linked together to create a continuous flow to the length that you require. These adjustments can be modified as the work progresses.
Up, up, up and away!
Image source: iStock
Naturally, the nature of the landscape changes as work is carried out on-site. As diggers unearth soil from deep underground, the terrain becomes increasingly challenging for vehicles to access the targeted area of excavation.
The Shifta Conveyor belt offers a more practical solution and can be positioned with a steep incline. Loads can be taken on a gradient of up to 45-50 degrees, which allows you to work on challenging terrains where other machines would not be able to cope with the differing levels of land.
Let safe work carry on around you, and around the clock!
Image source: iStock
As a Project Manager, you'll be mindful of the negative impact a job can have if it interferes with other work being carried out in the surrounding area. You'll also wince at the thought of damage occurring to any structural foundations that a highly complex and dynamic site is at risk of.
The Shifta conveyors can be placed strategically to avoid scaffolding or other machinery such as diggers. Careful sizing and positioning of the conveyor belts reduces travel, congestion and waiting times on-site, creating a safer work environment with better worker morale. Since the Shifta conveyor can run around the clock and the physical demands of your site setup, it offers both damage-limitation and enhanced efficiency during your excavation project.
Say goodbye to logistical headaches!
Image source: iStock
For site managers, transporting heavy machinery to and from the site can take significant planning and eat into the budget. By hiring a conveyor belt, all of the logistical arrangements are taken care of by the provider who will deliver the conveyor belt upon request.
But what about when you're ready to off-hire the conveyor belt? Surely, you don't want to leave it on-site until your provider collects it…? Thanks to its lightweight aluminium structure, the Shifta conveyor belt offers impressive portability. Once the job is complete, you can easily stack the belts out of the way, allowing other work on site to resume until the belts are collected.
If you require a more complex set up of conveyor belts, it's a good idea to request a free site survey. Your conveyor specialist will be able to offer professional advice on how many conveyor belts you require for your project and how to set them up to ensure maximum efficiency to your project.